REEL
WORK
RECOGNITION
ABOUT & CONTACT
PHOTOGRAPHY
PRINT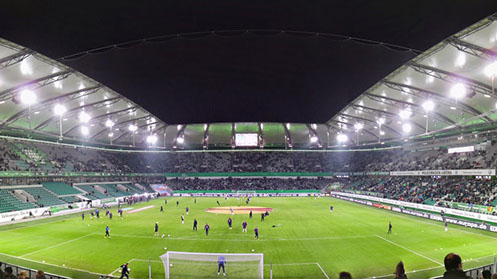 Volkswagen Arena. Wolfsburg, Germany.
WOLFSBURG STADIUM BANNER
TRW / Concept Farm
2015
DESCRIPTION
This was a very unique and great project to work on. I created an electronic banner ad that spanned 220 yards (24,500 x 90 pixels, both sidelines and wrapped around the goal line) in Volkswagen Arena during VLF Wolfsburg soccer matches (Bundesliga). I created an additional banner for the upper tier which spanned 100 yards.
MY ROLE
Motion design.
TOOL KIT
After Effects, Illustrator, Photoshop.

Animated Banner - Lower Tier. 220 yards long. 24,500 x 90 pixels.

JOSH A. KAPUSINSKI / joshkapusinski (at) gmail.com